Silicone wristband is a fashion accessory in recent years. Now, wristbands are also worn as a fashion symbol, making people aware of one reason and other symbolic reasons. Do you know their history, types, production process, and application? Let us learn more knowledge of silicone wristbands.
History of Wristbands
Silicone wristbands, also known as gel bracelets, have a variety of colors. They have been popular in many countries since the 2000s. The first wristband was worn in 2004 by American cyclist Lance Armstrong to raise awareness of cancer. In 2007, the 1-inch wide wristband became more popular—the musical group sold customized wristbands to their fans. The price of these wristbands usually is $1, and most of the money went to charity. Because of charity awareness wristbands, silicone wristbands have become more and more popular. And they are used on many occasions, like events, wedding favor, party, camp, school, business promotions & marketing, gifts, and so on.
Common Materials of Wristbands
Silicone
Silicone rubber is composed of silicone bonded with hydrogen, carbon, and oxygen to create cross-linked polymers reinforced with silica. Also, Silicone or rubber is one of the most common materials used for wristbands.
Silicone rubber offers distinct advantages over other elastomers, including:
Resistant to heat and cool
For heat resistance, the silicone rubber can used at 150℃ with virtually no change in their properties. Besides, it also can be used for 10,000 hours or more at 200℃. In terms of cold resistance, -20℃ to -30℃ is no problem.

Color friendly
Silicone rubber is easy to color prior to curing process.

Range of hardness
Silicone rubber can be formulated to exhibit different ranges of flexibility and hardness, depending on the needs of the application.

Durable and reliabale
It can be exposed to wind, rain and UV rays for extended periods of time with almost no change in its physical properties. Hence, it has higher longevity in hostile environment compared to organic rubbers.

Cost
While silicone rubber reduces production costs, molding and sustaining some rubber can become costly. For example, liquid silicone rubber can increase costs due to the need for an injection rubber machine and oven-curing methods.

Food and medical
Silicone can be used for medical tubing and a variety of other medical materials. In fact, silicone is a material that is commonly used for medical products because of its strength and sterility. It is also affordable.

Tyvek
Tyvek material acts as a superior combination of paper and fabric. It was discovered by DuPont in 1955 and was introduced for commercial purposes in 1967. Lightweight, tear-resistant qualities make it an ideal material for wristbands.
Besides, Tyvek paper is known for its strength and durability, malleability, resistance to liquids and chemicals, resistance to mold and mildew, and insulating properties.
Fabric
Another common material used in many items, fabric wristbands, can be much gentler on the skin when worn compared to their silicone counterpart. While its strength can be comparable to gel bracelets, it does require a special water-resistant coating for that added durability.
Types of Silicone Wristband
With the advancement of technology and changes in consumer aesthetics, silicone bracelets have also been upgraded in many types. Different types meet different occasions
Common Silicone Wristbands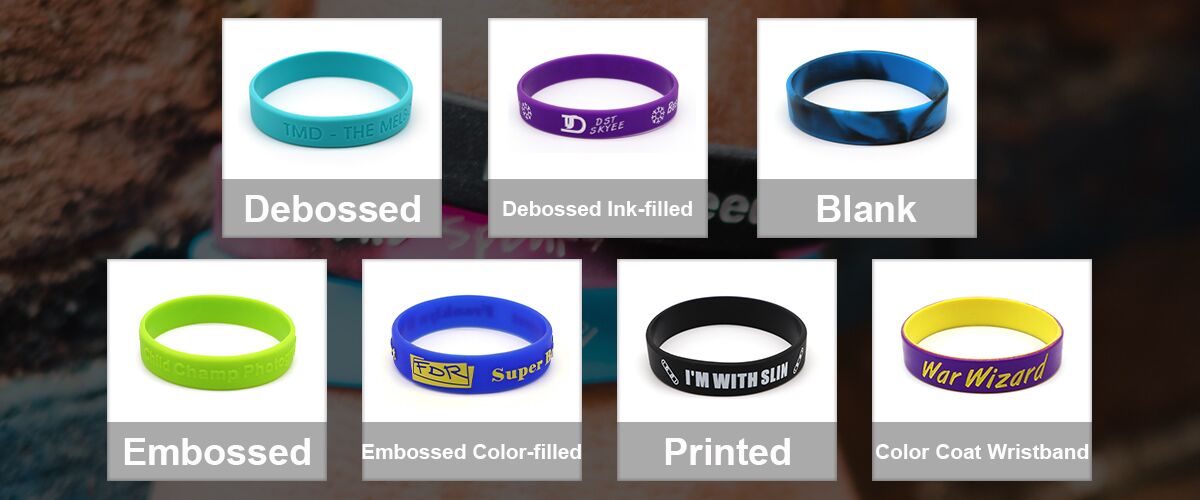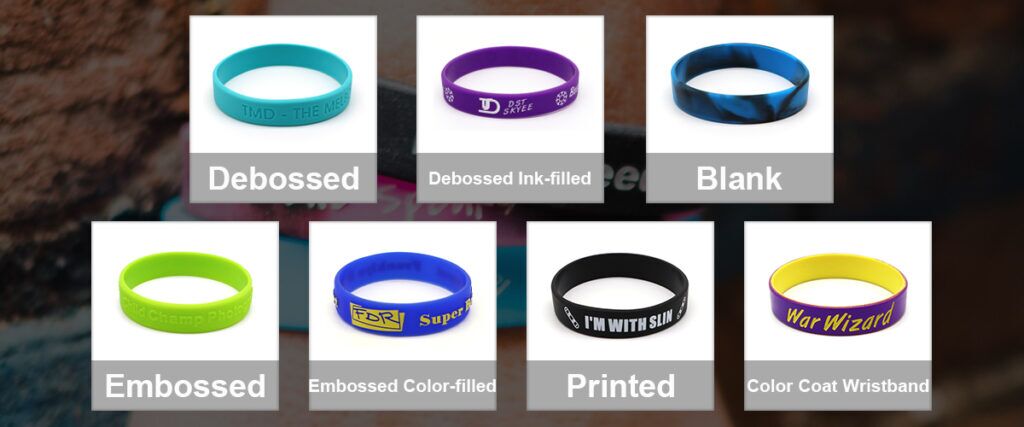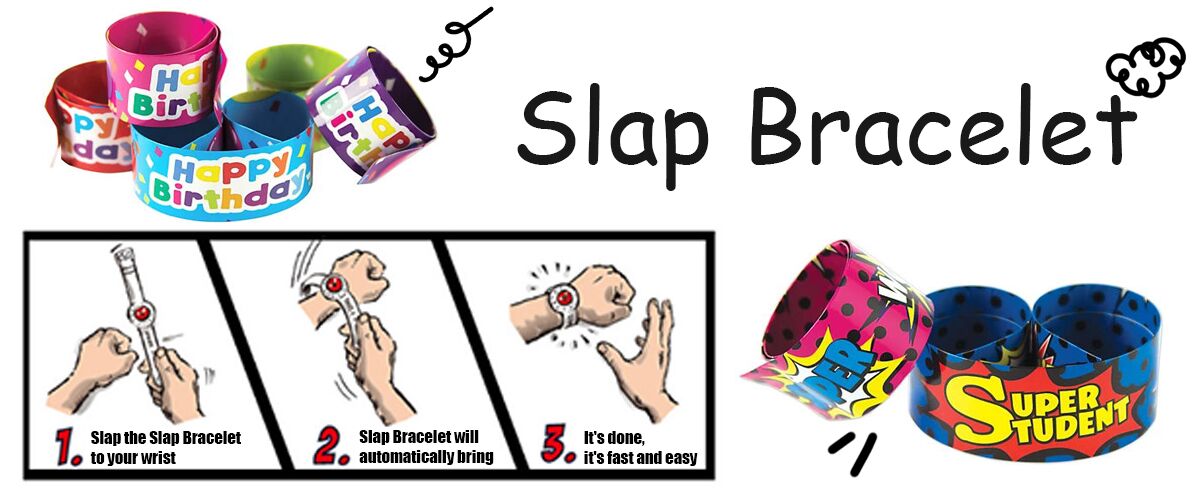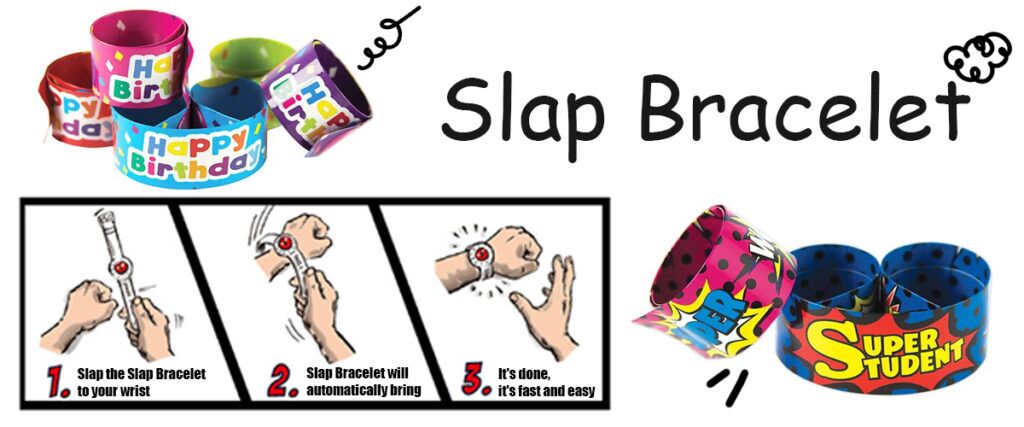 A slap bracelet also is called a snap bracelet. Consisting of layered, flexible stainless steel bistable spring bands sealed within a fabric, silicone, or plastic cover. It can have many different colors or designs.
In order to put on slap bracelets, one simply extends the wrist and gently slaps the bracelet against the wrist. The flexible metal in the slap bracelet encircles the wrist, leaving the look of traditional round bracelets.
Devote Silicone has developed various styles of slap bracelets in past years. Pure color silicone, harmless for the human body.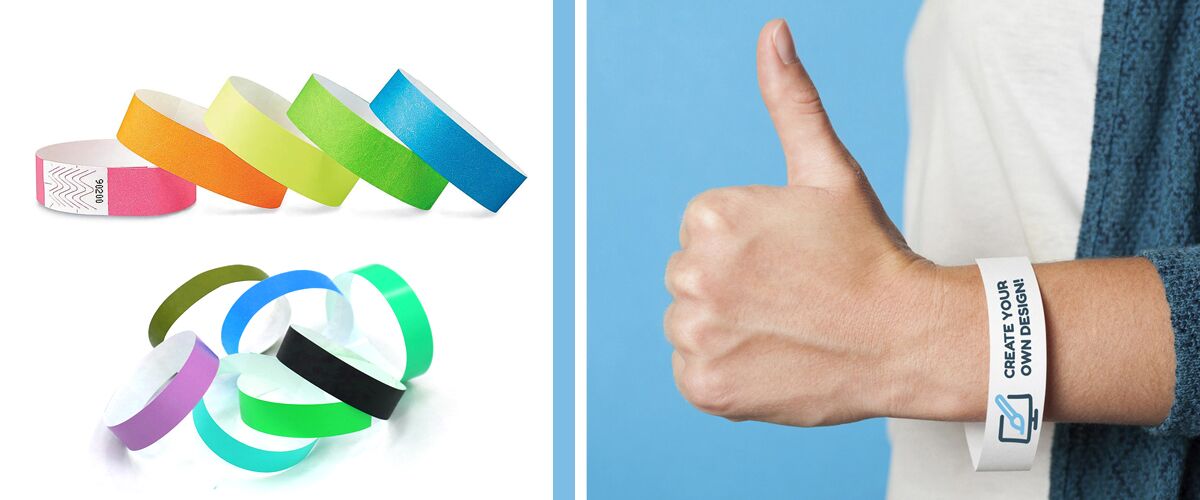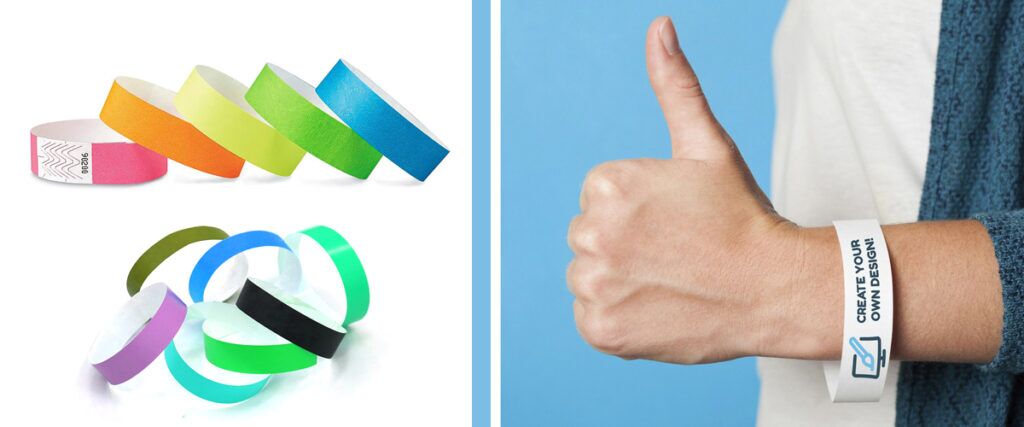 Tyvek wristbands are often referred to as paper bands. However, they are not actually paper. It is made up of woven spun high-density polyethylene that creates this tough, hard-wearing material that looks and feels like paper but has the qualities of plastic.
There are many advantages of Tyvek wristbands, including:
Durability
Sticking Power
Tamper-proof
Waterproof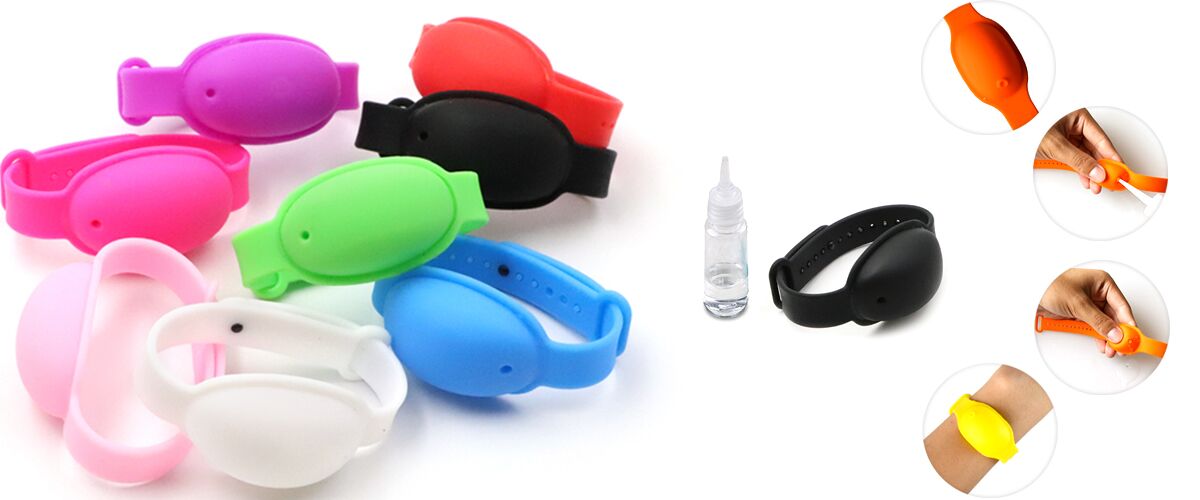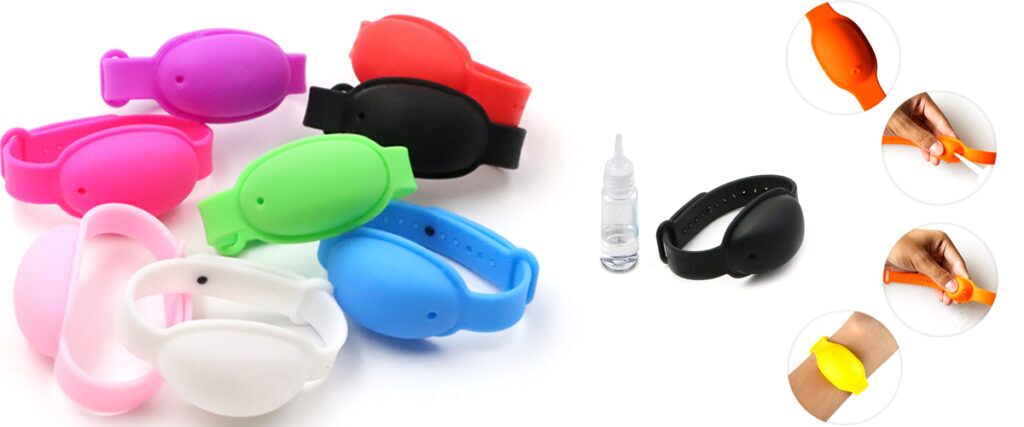 Sanitizer Wrist Bands are similar to a watch that wraps around your wrist but holds hand sanitizer. It is very easy to use and offers a convenient, simple, and portable defense against germs. The wristband can be filled with a hand sanitizer of your choice, and when you press on it, the sanitizer will be dispensed into your hand. It comes in many different colors, making it versatile for people of all ages, whether you want a fun color or something a bit more professional.
Other Special Silicone Wristband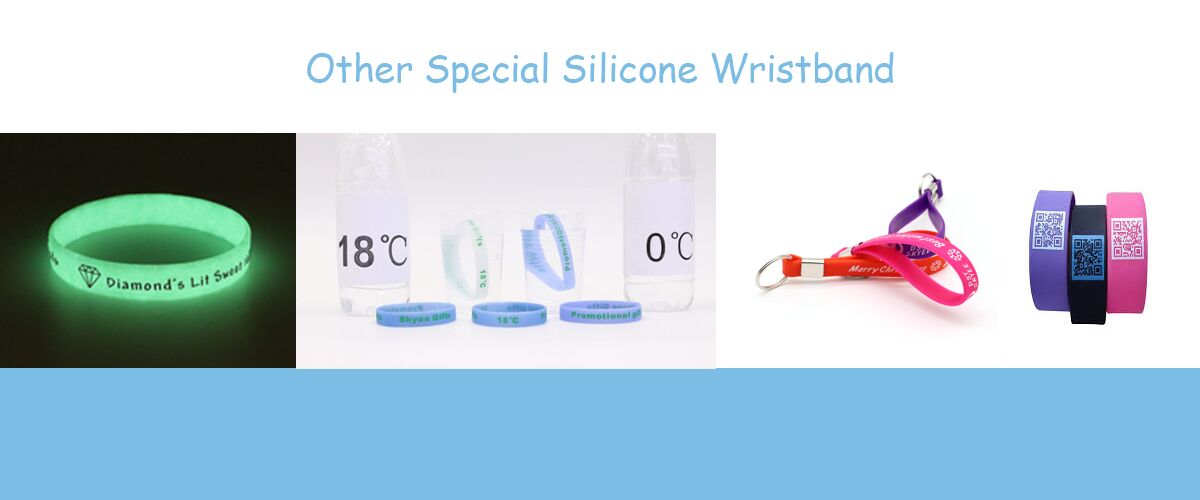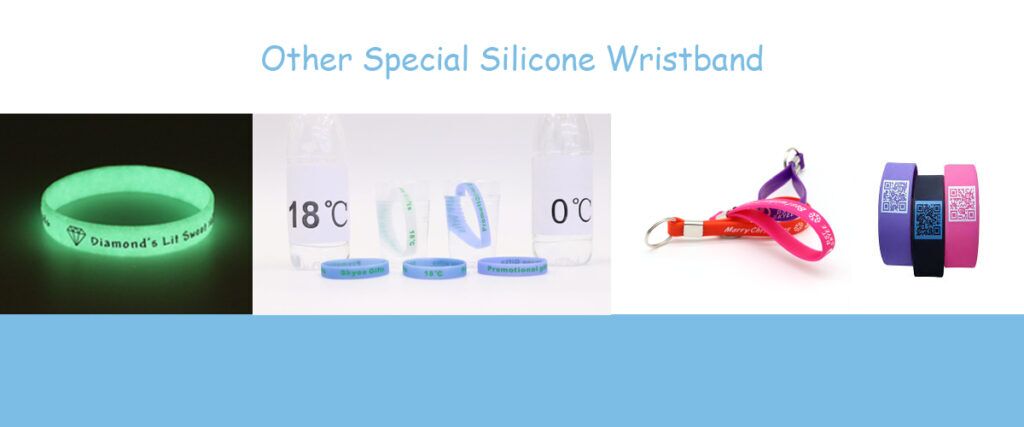 Golw in Dark Wristband
Glow-in-dark wristbands are a very popular wristband option. The glow-in-dark band's principle is to add phosphor in the band. The band stores light energy after being exposed to natural light, daylight, etc. After stopping the light irradiation, and then slowly released fluorescence manner, so that in the night or a dark place, can still see the light, the duration of several hours to ten hours.

Color Changing Wristband
Temperature-sensitive bracelets change their original color to another color when they reach a certain temperature, and return to their original color when they return to normal temperature.

QR Code Silicone Wristband
QR code silicone wristband is a silicone wristband that comes with QR code printed on the wristband. Whether you are using QR code silicone wristbands for your event, as a giveaway, the addition of a QR code provides a quick and easy link for the wearer to access more information.

Silicone Wristband Keychain
Silicone wristband keychain is the combination of silicone bracelet and key ring. You can choose any types of silicone writband, like blank, embossed, debossed, glow in dark wristband, and so on.
Production Process of Silicone Wristband
Silicone bracelet the following procedure required to pass through:
The draft design
Accoring to the customer's request (like material, size, color, message, logo), the designer will make draft design

Mold design and manufacturing
Different types of silicone wristband will be used different mold. So the mold will be designed and produced

Raw Material Makes up
Including the raw rubber mixed refine, color match colors, raw material the weight computation, etc

Oil Pressure Molding
Using high pressure curing equipment after high temperature vulcanization, make the silicone bracelet raw materials into solid forming

Trimming
From the mold off out of the silicone bracelet products will be joint some useless flash, hole crumbs, will need to be removed; At present, in the industry, completely by the process done by hand, some factories and useful punch completed.

Coloring (including color-filled, printing, embossed printed)
The process with only in some in the surface of silicone bracelet has pattern of the silicone bracelet products, such as black phone silicone bracelet , for the user to operate buttons, often need to be in the position of the corresponding with the corresponding cell phone screen printing keyboard characters.

Injection
Silicone bracelet products in ordinary state is easy to absorb dust in the air, and has certain viscosity. In the surface of silicone bracelet spray a thin layer of oil feel, and can not only prevent dirt and can cause the feel is guaranteed.
Application of Silicone Wristband
Over the years, many organizations have used wristbands to promote their careers. Whether it is an iconic logo or slogan, or a simple color wristband, groups around the world take the wristband as a symbol of publicity.
Raising Awareness
Silicone wristband is a great way to promote public welfare. Charity silicone wristbands are very popular for a reason. Part of the proceeds from the purchase of such wristbands are usually donated to the charity itself. As people wear charity colors and logos, they will further promote the cause and may encourage others to donate. People can express their support in a fashionable way, and create a good feeling of unity when wearing charity wristbands in fund-raising activities or going out.

Identify Disease
Wristbands serve as a great visual aid for invisible illnesses. Whether it's a life-threatening allergy or something like diabetes, a wristband can signpost a person's ailments to better assist them in times of crisis. A red wristband printed with the name of their allergy or instructions for administering medication could be life-saving to a person when they are unable to communicate this information verbally. It can also serve as a useful tool in schools during lunchtime, preventing children from being served anything that they shouldn't be eating.

Promotions and Marketing
Silicone wristbands are still a surprisingly effective promotion – as long as they are designed correctly, they are aimed at the right people. They are especially popular with non-profit organizations and local small business supporters, but they can also adapt to various promotion environments.

Educational Use
Teaching children emotion is a challenge. Teaching adults to do the same can be challenging. In any case, some educators have successfully used silicone wristbands of different colors to help children identify their current feelings. They can be used to manage pre-school and day care centers or group therapy courses to help participants of any age better listen to their emotional state.

Event Souvenirs
Nowadays, wristbands are very popular. Even if the activities they publicize or authorize to participate have long ended, wristbands will move around due to wear. Keep your event hyped by providing wristbands that participants can wear. You can even use wristbands at private events, such as hen parties or weddings, with the guest's name printed on them to reflect your personal style. People like to commemorate important events with souvenirs, and wristbands are a good way.

Trustworthy Security Tool
When there are lots of people who arrive at once, it turns into a daunting task for organizers to identify the unauthorized individuals and stop them from entering the venue. But when all the attendees are wearing rubber bracelets with a logo designed by the organizers, it becomes easy to quickly recognize people who are allowed to attend the event.

School Trips
We've previously had a look at the ways wristbands can be used in schools, and school trips are an especially useful time to invest in wristbands. A teacher's worst nightmare is a missing child on a school trip, but if every child is equipped with a wristband, this problem becomes less devastating. By giving every child a silicone wristband with the school's name and a contact number printed on it, a lost child can be more easily reunited with their group.
How to Choose Correct Size
What size rubber bracelet should I order? That is an important query, since a bracelet that doesn't fit well doesn't get worn.
Common Size (circumference)
Extra Small – 6.5 inches
Small / Child – 7 inches
Medium / Youth – 7.5 inches
Large / Adult – 8 inches
Extra Large – 8.5 inches
Measure Wrist Circumference
Simply cut out the strip of paper and measure your wrist to see what size will fit best.